Meet The Team
Introducing the Your Cat Magazine editorial team, our qualified regular contributors, and panel of experts...
Peter Neville
Peter Neville is an adjunct teaching professor in animal behaviour at The Ohio State University, USA, and a director of COAPE International — an online education provider of pet behaviour therapy courses: www.coapesa.com
Dr Lauren Finka
Dr Lauren Finka is a behaviour and welfare scientist specialising in the domestic cat. She has a PhD in cat behaviour and currently works as a researcher at Nottingham Trent University. Lauren also works as a consultant for various animal welfare organisations.
Clare Hemington
Clare Hemington DipCAPBT is an accredited cat behaviourist. She has a cat behaviour referrals practice and runs her Honeysuckle Cat Toys business with the help of her Siamese, Billy.
Rosemary Fisher
Rosemary Fisher entered the cat fancy in 1974 when she purchased her first pedigree cat — a Chinchilla called Brylou Moonstone. She breeds Persians and Exotics, and judges in several sections. She is currently a GCCF Board member and also serves on the genetics committee.
Chris Pascoe
Chris Pascoe lives in High Wycombe, Buckinghamshire. He has written five books, including 'A cat called Birmingham' and 'You can take the cat out of Slough', which are available to buy from Amazon.
Celia Haddon
Celia Haddon MA MSc MA is a well-known pet columnist and author of numerous cat books. She is a cat lover and owner, with a cat behaviour qualification and broad experience of feline issues.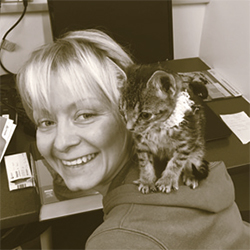 Aga Zoltowska
Aga Zoltowska BVSc MANZCVS (Medicine of Cats) DipCABT MRCVS graduated from the University of Liverpool in 2005 and is passionate about cat welfare. Find out more at www.thecatboxsolutions.com
Kim Houston
Kim Houston BSc (Hons), Dip (AS) CABC, CCAB is a consultant in feline behaviour. She works with clients throughout the UK, helping to resolve cat behaviour problems. Find out more at www.cat-astrophes.com
Dr Sue Dawson
Dr Sue Dawson is a counselling psychologist specialising in human-companion animal relationships and pet bereavement.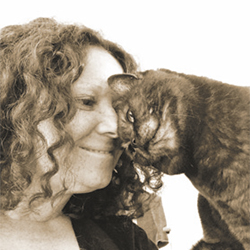 Anita Kelsey
Anita Kelsey BA Hons, MCFBA, CIDBT runs a vet referral practice dedicated to behaviour problems in cats. She is also an expert cat groomer. Find out more at www.catbehaviourist.com
Laura Wright
Laura Wright is the editor of the Your Cat website. She loves all things cat-related, and some would even call her a crazy cat lady! She lives at home in Lincoln with her boyfriend and six-year-old black cat Eponine (know as Epi), who is an indoor cat. She studied Journalism at the University of Lincoln, graduated in 2012, and started her job with Your Cat in 2014.
Favourite cat fact: A domestic cat can reach speeds of up to 30mph! I feel like Epi reaches this speed every day as she zooms around the house.
If you could tell your cat one thing, what would it be?: There's no need for you to get inside the wardrobe at 2am! I know you only want to sleep on all the comfy clothes, but waking us up with your persistent scratching is not appreciated (I have now learnt to leave the wardrobe door open at night).