Your Cat Magazine April 2018
---
Issue Media
Issue Meta Data
Issue Number:

75

On Sale:

01/04/2018

Digital Edition:

£0.00

Print Edition:

£0.00 (plus postage)
Issue Summary
Inside the April issue of Your Cat you will find the ultimate kitten guide — six pages of advice, tips, and kitten pics! Plus, nine vital lessons we can learn about cats, your chance to win a cat containment system worth £2,000, meet the black cat who had to have her nose removed, and this month our great debate looks complementary therapies — are you for or against?
On Sale: 01/04/2018
---
Why Not Subscribe?
Ensure you never miss an issue of your favourite magazine by taking out a great value subscription.
---
What's in this Issue?
This issue sees the start of our new ultimate kitten guide. If you're thinking of taking the plunge and introducing the patter of tiny paws into your home, then you'll find it a must-have read. Month by month, we're going to be covering a range of topics, from the best way to going about buying a kitten, to essential equipment, socialisation, understanding your new arrival, and how best to ensure he — or she — grows into a healthy and happy adult. Plus we've got a gallery of your irresistible kitten pics, and the start of a kitten owner's diary.
This year sees a very special anniversary for International Cat Care; it's 60 years since the charity, which champions the welfare of cats across the world, was founded. You can read all about its origins and amazing achievements in this issue.
And finally, are you feeling lucky? We have the most fantastic competition this month — your chance to win a cat containment system from ProtectaPet worth £2,000. That's some prize — but even if you're not lucky enough to hit the jackpot, there is plenty in this issue of Your Cat to put a smile on your face.
Check out our great debate on complementary therapies; learn all about the Old Style Siamese; meet working chapel cat William; and discover the most important lessons you can learn about cats — and that's just for starters!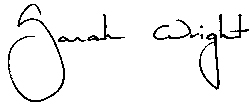 Sarah Wright, Editor in chief