Your Cat Magazine August 2018
---
Issue Media
Issue Meta Data
Issue Number:

79

On Sale:

13/07/2018

Digital Edition:

£3.99

Print Edition:

£0.00 (plus postage)
Issue Summary
Inside the August issue of Your Cat we welcome Emily as our new editor. Alongside this, you may notice a few changes, and lots of added extras! In the first part of our new 'My first cat' series, we find out all about Mary and Gizmo, plus read all about a cat who turned up six years after he went missing, meet the moggy who has just turned 30, and there's six pages of kitten advice, tips and pics.
On Sale: 13/07/2018
---
Why Not Subscribe?
Ensure you never miss an issue of your favourite magazine by taking out a great value subscription.
---
What's in this Issue?
If there was some way of making cats immortal, I'm sure most of us would jump at the chance! Although there is no magic potion to make this dream a reality just yet, there are plenty of ways we can ensure our cats are with us for as long as possible.
On page 14 you'll hear about a beautiful moggy who has just celebrated his 30th birthday (amazing!), and we've got lots of advice about how you can ensure your cat lives a long and happy life too.
As always, it's a jam-packed issue, and there's plenty to enjoy elsewhere in the magazine. There's a real-life story about a cat who turned up six years after he went missing (page 62); ways you can safely give indoor-only cats a taste of the great outdoors (page 40); a brand-new puzzle section for you to get stuck into with a cuppa and your cat curled up on your knee (page 68), as well as a breed feature on the energetic Siamese, tips for picking the right vet's for your new addition, readers' tales, and so much more!
I'm also delighted to say that this is my first issue as editor! Having worked on the magazine for nearly three years, it's an honour to be taking up the reins and keeping you up-to-date with the latest goings-on in the cat world every month.
As you may have guessed, I'm a huge animal lover. In our new series 'My first cat' (page 74) you can hear all about Mary and Gizmo, my first feline companions — hopefully it will inspire you to send us your happy cat memories too!
Don't forget that we love hearing from our readers. Whether it's to tell us all about your cats, past or present, or let us know what you love about the magazine or would like to see more of — don't hesitate to get in touch!
I hope you find plenty to enjoy in this month's issue.
Happy reading,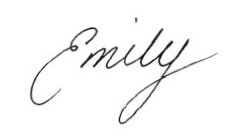 Emily Wardle, Editor