Your Cat Magazine February 2018
---
Issue Media
Issue Meta Data
Issue Number:

73

On Sale:

01/02/2018

Digital Edition:

£0.00

Print Edition:

£0.00 (plus postage)
Issue Summary
Inside the February issue of Your Cat you will find more than £1,200-worth of great giveaways, winter cat care tips, Liverpool's secret cats, and we take a look at if cats are a cure for loneliness. Plus, meet the Australian cat who loves climbing with his dog friends, and it's the first of our great debates, with the question — kittens or older cats?
On Sale: 01/02/2018
---
Why Not Subscribe?
Ensure you never miss an issue of your favourite magazine by taking out a great value subscription.
---
What's in this Issue?
Never underestimate the companionship of cats.
As research reveals that we face an epidemic of loneliness, the positive benefits of having a pet are being widely recognised as one way of improving people's health and well-being. In our lead feature this month (see page 14), we explore this in more depth, and speak to people for whom cats provide love and companionship.
At this time of year many of us are planning our summer holidays — after all, there's nothing more guaranteed to cheer you up in cheerless February, than dreaming of a sun-kissed beach somewhere exotic. But have you thought seriously about what happens to your cat when you go away? In 'Happy holidays' on page 18, we take a look at the various options for cat owners, from catteries to pet and house sitters, and a new online business, to help you make a choice that will give you peace of mind, and ensure you can enjoy your holiday.<
Since winter is often very much still with us in February, it's worth checking out our cold weather tips on page 50. And once you've done that, you can get all heated over our new series, 'The Great Debate', where we discuss the big issues affecting the cat world (see page 54).
Enjoy this issue!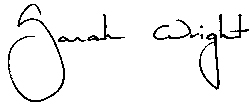 Sarah Wright, Editor in chief