Your Cat Magazine January 2019
---
Issue Media
Issue Meta Data
Issue Number:

84

On Sale:

14/12/2018

Digital Edition:

£3.99

Print Edition:

£0.00 (plus postage)
Issue Summary
Inside the January issue we introduce you to our new series 'The science of cats', where Dr Lauren Finka will be keeping us up-to-date with the latest feline research, the winner of the Your Cat Product Awards 2018/19 are revealed, and we take a look at the dangers of the vegetarian pet trend. Plus, do you have room in your heart for a golden oldie? Your chance to win over £1,250-worth of goodies, and all UK copies of the January issue will receive a FREE Catit Creamy treat - purrfect!
On Sale: 14/12/2018
---
Why Not Subscribe?
Ensure you never miss an issue of your favourite magazine by taking out a great value subscription.
---
What's in this Issue?
It doesn't matter how many years we've shared our homes with cats, there is still always something to learn! In our lead feature this month, the fascinating Dr Lauren Finka is introducing us to her new series 'The science of cats'. Every month, she'll be keeping us up-to-date with the latest feline research, translating scientific fact into easily-digestible information for cat owners, helping us to understand our own felines' behaviours better and be the best possible owners!
Another fantastic feature this month is by vet nurse Emma Allen, who works at a cat-only vet's in Worcester. She's filling us in on what a Cat Friendly Clinic is and how choosing a practice under this international scheme — which goes the extra mile to ensure cats have a calm experience at the vet's — can benefit both you and your kitty.
You may have seen in the news recently that the public was reminded by the RSPCA that feeding your cat a vegan diet could result in a jail sentence. Under the Animal Welfare Act, the law requires an owner to ensure all of their pet's needs are met, which includes a healthy diet. The growing trend for vegetarian and vegan pet food diets is very worrying, and this month we have a feature about the dire consequences it can have.
On a lighter note, there's an inspirational story about how a couple turned their wedding into a fundraiser for their favourite cat charity, our 'Lost & found' is a truly heart-warming story about how a stray cat found himself with two loving families, and we explore the benefits of adopting a golden oldie. Plus, there's a round-up of some of the senior moggies currently in Cats Protection's care who would love a new home for 2019 — it would be fantastic if they could find caring homes with our knowledgeable readers!
This time of year can be both fun and stressful, so make sure you take some time out to relax — what better excuse than getting stuck into your favourite mag? Enjoy your monthly cat fix, and a very happy New Year to you all!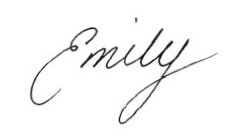 Emily Wardle, Editor