Your Cat Magazine July 2019
---
Issue Media
Issue Meta Data
Issue Number:

90

On Sale:

14/06/2019

Digital Edition:

£3.99

Print Edition:

£0.00 (plus postage)
Issue Summary
Inside the July issue you will find the first part of our new series about how to find a career with cats, this time it's how to get into cat-sitting. Advice on how to cope with an unexpected tragedy, how to spot the signs and manage your allergy to your best friend, and how to get the right litter tray set-up. Also, could the Balinese be your dream cat? Staying in or going out - what are the risks? Plus, win over £1,250-worth of goodies!
On Sale: 14/06/2019
---
Why Not Subscribe?
Ensure you never miss an issue of your favourite magazine by taking out a great value subscription.
---
What's in this Issue?
I am fortunate that no animal has ever left me with a tickly throat, itchy eyes, or streaming nose (so far — touch wood!). But I will always remember how badly affected my mum was by our two cats when I was growing up. Mary the tabby would often sit on my mum's knee at night in front of the TV, and sometimes I would walk in the room to find my mum with tears rolling down her cheeks, a tissue in hand, with her eyes almost swollen shut with puffy eyelids (sorry mum — not the most glamorous description to share!). As I looked at her in panic, she would say: "Don't worry — I think I must have a cat hair in my eye."
Luckily, her cat allergy was somewhat intermittent, and the more time she spent with animals, the more she could cope. But, cat allergies are an all too common problem for many people — and the unfortunate thing is that they can strike at any time. And when a cat lover suddenly develops the problem, it can seem like the end of the world!
But don't panic — all is not lost! This month, our lead feature is exploring the science behind why some of us are more affected by our furry friends than others, and we share some excellent tips from allergy sufferers and experts in the field. We hope you find it useful!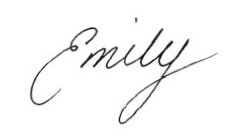 Emily Wardle, Editor