Your Cat Magazine March 2019
---
Issue Media
Issue Meta Data
Issue Number:

86

On Sale:

15/02/2019

Digital Edition:

£3.99

Print Edition:

£0.00 (plus postage)
Issue Summary
Inside the March issue of Your Cat you will find, our informative guide helping you find the right organisation and guiding you through the rehoming process, meet the Instagram-famous Maine Coons Artemis and Apollo, and the first part of our new series, Project Garden, which sees an ordinary garden transformed into a feline-friendly delight. Plus, an exclusive interview with Antiques Roadshow's Marc Allum, and your chance to win over 60 fantastic prizes!
On Sale: 15/02/2019
---
Why Not Subscribe?
Ensure you never miss an issue of your favourite magazine by taking out a great value subscription.
---
What's in this Issue?
As I write this, there is a sprinkling of snow settled on the rooftops outside my window — and, although it's undoubtedly a pretty sight (especially as I'm sat here in the warm), I must admit that I'm so over winter! But, hopefully, by the time this magazine is in your hands, spring will just be showing its first signs, and we can all let out a sigh of relief that the warmer weather is on its way and we can start looking forward to the days ahead.
However, for anyone involved in cat rescue in the UK, I can imagine that March brings with it more of a feeling of dread than relief. Kitten season kicks off at the beginning of spring and runs right through to September. During this time, charities are inundated with unwanted litters and pregnant queens who all require a lot of care, attention, expense, and, of course, loving new homes!
With Christmas long behind us, for some of us this might be a good time to start thinking about welcoming a new companion into our lives — and rescue organisations would certainly embrace this way of thinking. So, if 2019 is the year that you would like to take on a new kitty, there has never been a better time to go down to your local rehoming centre for a chat to get the ball rolling. Our lead feature this month makes for great pre-visit reading, so you can get clued up on what to expect and what to look out for in a good rescue organisation. For anyone who takes the plunge with a new cat or kitten this spring, we'd love for you to share your pics and stories with us about how they're settling in!
Hopefully, you'll notice that every mag comes with a survey this month — and everyone at Your Cat HQ would appreciate it if you could take 10 minutes out of your day to complete and return them to us. After all, you're the reader, and we want to ensure that you love what we do. We're all ears!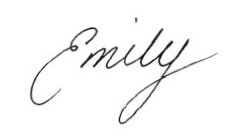 Emily Wardle, Editor