Your Cat Magazine November 2018
---
Issue Media
Issue Meta Data
Issue Number:

82

On Sale:

15/10/2018

Digital Edition:

£3.99

Print Edition:

£0.00 (plus postage)
Issue Summary
Inside the November issue of Your Cat you will find out how to help your golden oldie age gracefully, meet the cats of Knightshayes mansion, and find out how you can give reiki a go. Plus, advice on caring for your cat over the festive period, the first of our new lost and found series, where we meet an owner who believed she would never see her cat again after he went missing for over a year, and a chance to win over £1,250-worth of amazing prizes for you and your cat!
On Sale: 15/10/2018
---
Why Not Subscribe?
Ensure you never miss an issue of your favourite magazine by taking out a great value subscription.
---
What's in this Issue?
Wow — this year is really flying by! 2017 still feels like five minutes ago, and now 2019 is almost upon us — but at least this year's beautiful, long summer brought with it plenty of opportunities to enjoy the sunshine, for us and our felines!
Another thing that can catch us by surprise is our cats' advancing years. But, don't worry, the ageing process needn't be all doom and gloom! This month, we have teamed up with the experts at Cats Protection to offer you plenty of advice on how you can spot those subtle signs that your cat could be slowing down, so you can keep him feeling at his best and ensure he lives comfortably for many years to come.
It's hard to believe that some people just don't like cats, but this issue we chat with a lady who was very wary of them for many years until she started to realise that she had been wrong about our furry friends all along! Turn to page 20 to read about how beautiful Ragdoll Cece has lit up Steph's world.
Another cat who has managed to provide light in the darkness is black and white moggy Arthur, who was recently awarded the Most Caring Cat at the National Cat Awards 2018. On page 26, you can hear all about how he gives owner Emily the motivation to be the best she can be. It's truly amazing how animals can completely turn people's lives around.
A few of my other favourite features are our photo feature on page 6, which showcases an incredible close-up of a lioness in her natural habitat; our new 'Lost & found' series, which will follow different owners each month as they are reunited with their missing pets; and, as we honour those who have sacrificed themselves during times of conflict this November, we look at how cats have been essential to war work on and behind the front line for thousands of years.
The most magical time of the year will be upon us before we know it, so this month we're helping you put the wheels in motion and get ahead of the game for Christmas. On page 48, you'll find Battersea's top tips for hazards to look out for over the festive period and, in our shopping pages, you'll find a few gift ideas to get the festive juices flowing.
Next month, we're going all out on the Christmas vibes — make sure you keep an eye out for our December Christmas special. We'll have everything from gift inspiration and advice on how you can give your home a feline-friendly festive makeover, to a special double-dose of freebies, and lots more to get you in the spirit — you won't want to miss it!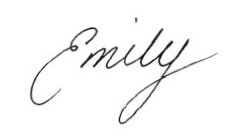 Emily Wardle, Editor