Your Cat Magazine October 2018
---
Issue Media
Issue Meta Data
Issue Number:

81

On Sale:

14/09/2018

Digital Edition:

£3.99

Print Edition:

£0.00 (plus postage)
Issue Summary
Inside the October issue you will find advice on how to keep your cat calm this fireworks season, find out if reiki could benefit your cat, meet West Yorkshire Police's furry constable, and the National Cat of the Year has been revealed. Plus, find out all about your top breed, the Maine Coon, and your chance to win over £1,250-worth of feline goodies.
On Sale: 14/09/2018
---
Why Not Subscribe?
Ensure you never miss an issue of your favourite magazine by taking out a great value subscription.
---
What's in this Issue?
Welcome to the October issue of Your Cat. As the leaves start to turn golden and a chill begins to fill the air, it's the perfect excuse to grab a blanket, cuddle up with your cat, and enjoy some quiet reading time. Hopefully, you'll find plenty to make you smile, laugh, and even shudder this issue (well, it is nearly Halloween, after all!).
In my eyes, anything we can do to improve the lives of our cats can only be a good thing. So, this month we're taking a look at one of the complementary therapies that I'm sure many of you will have been hearing more and more about in recent years. Reiki is a natural, safe healing method which can help animals (and humans!) with a whole range of issues. Turn to page 14 to see if you think your cat could benefit — it certainly offers food for thought!
This month, we're also thinking about one of the big challenges our feline friends might face this autumn. On page 42, behaviour manager at Cats Protection, Nicky Trevorrow, explains what masters of disguise cats can be when it comes to hiding their fear of fireworks. She's helping you to spot those subtle signs that could signify your cat is feeling overwhelmed by the whizz, pops, and bangs, and explains what you can do to help him cope.
We've also got our final feature in our countdown of the top 10 breeds you voted to know more about. Coming out on top was the majestic and wonderful Maine Coon, so I hope you enjoy finding out more about their history, temperament, and loving ways — I'm certainly smitten; they're one of my dream cats to own!
Finally, one of my favourite features this month is about Koko, and the love and compassion she had for cats. Koko was not your conventional cat lover — that's all I'm going to say for now! You can read her full story on page 30 — a real heart-warming account of her amazing life.
Hope you enjoy it!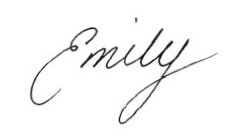 Emily Wardle, Editor