Your Cat Magazine October 2019
---
Issue Media
Issue Meta Data
Issue Number:

93

On Sale:

13/09/2019

Digital Edition:

£3.99

Print Edition:

£0.00 (plus postage)
Issue Summary
'Let's do something amazing!' — that's the theme of this month's mag. On October 10, it's World Mental Health Day, so we are embarking on an exciting project this issue — and we want as many of you to get involved as possible! As cat lovers, we all know how therapeutic a gentle purr can be, which is why (with the help of you lovely lot!) we have launched a campaign to raise money to buy as many 'robotic' cats as possible. Confused? Let me explain more…
On Sale: 13/09/2019
---
Why Not Subscribe?
Ensure you never miss an issue of your favourite magazine by taking out a great value subscription.
---
What's in this Issue?
Let's do something amazing!' — that's the theme of this month's mag. On October 10, it's World Mental Health Day, so we are embarking on an exciting project this issue — and we want as many of you to get involved as possible!
As cat lovers, we all know how therapeutic a gentle purr can be, which is why (with the help of you lovely lot!) we have launched a campaign to raise money to buy as many 'robotic' cats as possible. Confused? Let me explain more…
These life-like interactive cats have been developed to deliver moments of comfort, play, and companionship to an ever-growing ageing population. With the help of the Rotary Club of Wakefield, we are hoping to purchase and distribute plenty of these robotic cats to individuals living with dementia across the UK, with the aim of bringing joy and improving the mental well-being of one of the most vulnerable groups in society.
There are some lovely case studies on the feature on page 14, and all the details about how to donate are included too. At Your Cat HQ, we'll be holding our own fundraising event on October 10 — and we encourage you to do the same!
Next issue, we have something really exciting for you to look forward to. Every reader will receive a little something extra special with their mag — but that's all I'll reveal for now…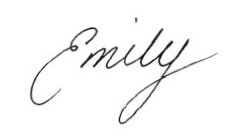 Emily Wardle, Editor