We share the story of a black and white cat who defied the odds to survive horrific gunshot wounds amid the COVID-19 crisis.
As the UK continues to navigate the coronavirus pandemic, key workers are working harder than ever to keep people safe. Working just as hard, keeping our animals safe during this time are our vets.
It was thanks to vet's still taking on emergency cases during the height of lockdown that a black and white cat's life — as well as her unborn kittens — were saved after she'd been shot and left for dead.
The wounded cat was found hiding in a garden in Marchwood, Hampshire, by Sarah Barker. The cat was covered in blood, and, at first, Sarah thought that the poor feline must have been hit by a car.
Sarah says: "I knew something wasn't right as soon as I saw her.
"I gently placed her in one of my own cat's travel baskets and took her straight to the vet's in Hythe. There was so much blood. I felt so dreadfully sorry for her."
SHOCK X-RAYS
Sarah rushed the cat to Seadown Veterinary Services in Hythe, which was still taking emergency cases and were able to take in the injured and dying feline. The cat was immediately given pain relief and rushed for X-ray, where vet, Emma Owen, was shocked by what they revealed.
Emma says: "When looking at the X-rays, we saw three air gun pellets; the poor little cat had been shot three times — an innocent animal never does anything to remotely deserve that behaviour.
"She was shot twice in her neck; one pellet had entered on her under side and then gone all the way through her neck. The other one was in her head and was sitting in the roof of her mouth so I managed to remove that and suture it up. After a day or so of pain relief and antibiotics, she started to eat and she was able to use her leg normally. She had no microchip or collar so we presume she had been abandoned, or was a stray."
The cat underwent surgery to remove one of the pellets; however, the other two cannot be removed without risking her life. So there are no plans to remove those. The surprises didn't stop there, Emma went on to discover that the cat was pregnant. The cat, given the name Hope, went into the care of Cats Protection foster carer Carolyne Kemp and gave birth to four healthy kittens only days later.
Content continues after advertisements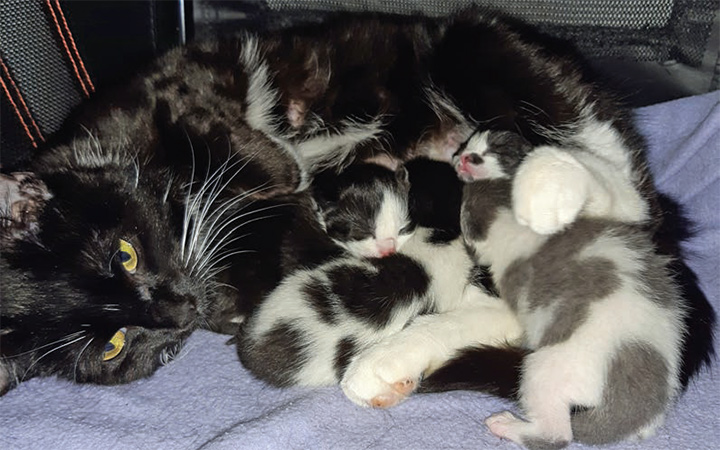 MIRACLE DELIVERIES
Carolyne, who is also the charity's Southampton branch coordinator, says: "As well as needing surgery for her wounds, Hope needed to stay as an in-patient for a few days until she was able to come home with me to foster. Hope needed further assistance when her kittens were born, so she has spent a lot of time needing vet care.
"To get through such an ordeal and then give birth to four healthy kittens is amazing. We are extremely grateful to the wonderful team at Seadown who took such excellent care of Hope after she had suffered such a cruel and violent attack."
The volunteer-run Southampton Cats Protection branch is now fundraising to help cover the cost of Hope and her kittens' vet care.
"We fundraise to cover all expenses ourselves and the charity as a whole receives no Government funding so we are asking anyone who has anything spare to please help us out," says Carolyne.
"We are so glad we could save Hope and her kittens from what would have been a horrible and painful death."
Hope and her kittens, three girls and one boy, named Raza (meaning 'hope'), Asha (meaning 'hope'), Sachi (meaning 'miracle'), and Nova (meaning 'new life'), will be available to rehome once the current pause on adoptions due to COVID-19 has ended.
Emma says: "We at Seadown couldn't be happier to hear that Hope gave birth to her four kittens. With Seadown only able to take emergencies at this time, she was an extremely lucky cat to be found and to be operated on successfully. What a special story to know that out of a tragic situation, beautiful Hope now has her own little family and is being well cared for. She and her kittens thoroughly deserve loving forever homes."
If you wish to make a donations to help cover the cost of Hope and her kittens' care, visit www.justgiving.com/fundraising/southampton-branch-cats-protectionhope
If you would like to offer Hope or her kittens a home, keep an eye on the Southampton branch's website (www.cats.org.uk/southampton), where cats' details are updated as soon as they are ready for rehoming.