If your cat loves to try and nibble things that they shouldn't, then why not get them something that's specifically meant for them? My Cat Grass Ready Grown Cat Grass is the perfect solution, and has many health benefits too, so everyone's a winner!
Product Review by Laura Wright and her cat, Eponine (Epi).
The cat grass arrived via courier, and was delivered in a well-sealed box marked 'fragile'. The box included everything I needed to get my Ready Grown Cat Grass Tray set up inside the Cat Grass Tray Station, plus an extra 1-litre of soil to help my cat grass keep growing for longer, and a couple of useful information leaflets.
The Ready Grown Cat Grass Tray was full of fresh, premium-quality, 100% organic certified seeds, and was ready to be eaten straight away – no planting necessary. The Cat Grass Tray Station is a well thought out, easy way to serve the cat grass, as no wall mounting is needed, and it is ready to use straight out of the box. It comes in a modern high-gloss finish, that will suit most homes, simply pop your Ready Grown Cat Grass Tray into the tray station, water, and your cats are ready to enjoy their cat grass!
The Cat Grass Tray Station is recommended to be purchased alongside the Ready Grown Cat Grass Tray, and I personally feel that having something to keep the cat grass in gives that little bit of extra style within the kitchen (or wherever you decide to put yours). The deep tray means there are less spills, and you can add additional soil, which is also available as an optional extra, which will give your cat grass the nutrients and room to grow for up to three weeks.
As soon as I'd taken the cat grass out of its packaging and placed it inside the tray station, Epi immediately came over to investigate this new, tasty-looking, green addition. The cat grass was a big hit, and she started nibbling at it straight away. We've had the cat grass for a couple of days now, and Epi has enjoyed having a little taste of the outdoors each day. The grass has been watered daily, and is still looking very fresh and green.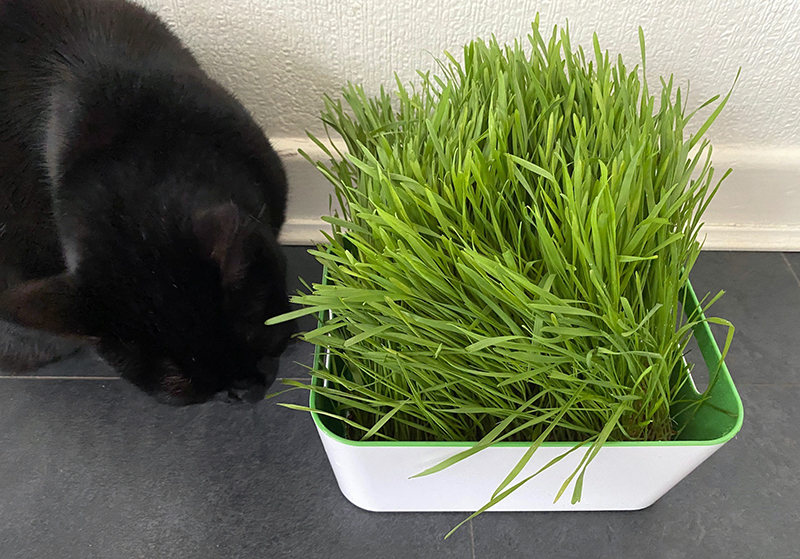 Content continues after advertisements
I think that the My Cat Grass Ready Grown Cat Grass Tray is a great idea, especially with having an indoor cat, as it means she won't be missing out on what the outdoors has to offer. Plus, cat grass is much healthier for them, as there are numerous benefits, such as helping to deal with furballs (which Epi sometimes struggles with), preventing constipation, and encouraging water intake.
The Cat Grass Tray Station is also a really good one-time purchase, especially if you don't want to fix a cat grass station onto the wall, but would still like somewhere aesthetically pleasing to store the cat grass. The Ready Grown Cat Grass Tray and the Cat Grass Tray Station are available in regular and large sizes, depending on whether you have multiple cats.
I would definitely recommend the My Cat Grass Ready Grown Cat Grass Tray, as what could be easier than getting a fresh product delivered directly to your door? There's no need to spend time growing your own and having to wait until it's ready (although, they do also sell Grow Your Own Cat Grass Kits and Premium Cat Grass Seed Pouches), and your cat is sure to enjoy it!
The Facts
Buy from: mycatgrass.co.uk
Cost: Ready Grown Cat Grass Tray – monthly subscription: £14.00 (regular); £17.99 (large)
Other options:
Ready Grown Cat Grass Tray – overnight delivery: £15.00 (regular); £18.99 (large)
Ready Grown Cat Grass Tray – bi-monthly subscription: £15.00 (regular); £18.99 (large)
Extras:
Content continues after advertisement